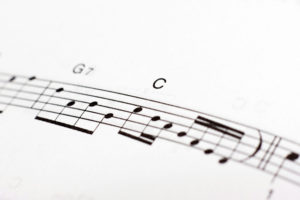 There are a multitude of ways in which music can be used as part of a funeral ceremony. Playing a significant song is just one of them, and it can form a beautiful, heartfelt tribute to someone.
When you think of your friend or loved one who's died or who is nearing the end of life, what songs do you associate with them and why? Your answers might surprise you. You might find yourself dismissing some pieces as ceremony material because, as one person put it to me recently 'That's not nearly funereal enough'. Unlikely as it may seem, choosing a song that's not funereal and is meaningful can be the key to a very touching and memorable moment in our celebration and mourning.
We have emotional responses to songs, whether they're traditional, modern, wellknown or obscure. And it's that emotional response that can ease the grief and evoke the joy of having known and experienced someone in your life.
When choosing a song, consider this emotional response in relation to the melody, key and tempo and also to the lyrics, in deciding whether to use it and where in the ceremony it might best be placed. We might think of the lyrics as being a poem set to music. The words can access our deeper psyche, or they might tell a story, or describe something, someone or a place or event that's important to the person whose funeral is being devised. The lyrics can be used alone, too, as a poem, or blended and weaved as phrases spoken by the celebrant or other participants. It can be a creative and fulfilling process.
You might use a similarly imaginative process in creating a plan for your own send-off – your life in a song.